Charges are mainly calculated based on the room class
The maternity packages offered by private hospitals are usually divided into normal delivery and Caesarean section. In general, a normal delivery package is cheaper than that for a Caesarean section. However, for whichever package, the charges mainly vary according to the room class, and the higher the class of the room, the more expensive the fees will be. The class of rooms can be mainly divided into private suites, private rooms or single rooms, semi-private rooms or double rooms, three or four bedded rooms, standard or ordinary large rooms.
The number of days of hospital stay will also have an impact on the price, and the choices are usually 3 to 6 days. The longer the hospital stay, the more expensive the charges will be.
Basic coverage of services
So, what services will generally be included in these maternity plans?
Room charges during the planned stay;

Nursery fees;

Routine examinations before and after childbirth;

Care and essential medicines;

Delivery room for normal delivery or operating theatre;

Newborn baby care;

Routine blood tests or cord blood tests for babies;

First vaccinations (Hepatitis B vaccine, BCG vaccine and vitamin k injection);

baby diapers during hospital stay.
Cases where additional charges apply
While the services included mentioned above may seem comprehensive, there are also many items that require additional charges, such as:
Meals
The cost of three meals during the mother's hospitalization is calculated separately in some hospitals.
Accompaniment in delivery room
If the husband wants to accompany his wife in the delivery room during natural birth, some hospitals will charge an accompanying fee. If the mother intends to give birth by Caesarean section, it is even more important to note that if the husband intends to enter the operating theatre to accompany his wife, in addition to obtaining the approval of the doctor, an additional fee may be charged.
Use of additional equipment, anaesthesia, etc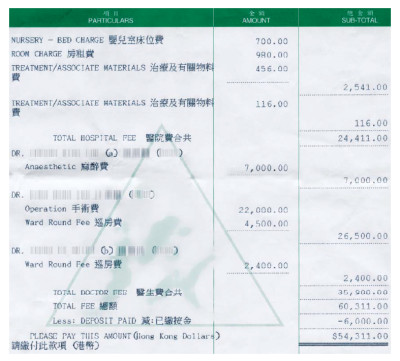 Maternity packages generally do not include doctor's fees, anaesthetist's fees, doctor's room visits, additional laboratory tests, medication, equipment and emergency services, for example the use of forceps or vacuum delivery during natural childbirth, or the need to perform anesthesia procedures during the delivery, epidural analgesia etc., which may incur additional charges. Therefore, when choosing a plan, expecting parents should check with the attending doctor and the hospital to clarify the various charges so as to plan their budget.
Elective Caesarean section at a specified time
If you want the baby to be born at an auspicious time, most hospitals will charge an additional fee. Some hospitals also have special packages for Caesarean section delivery at a specified time.
Emergency services
When a woman gives birth, she may encounter an emergency. For example, if a natural delivery plan is chosen upon admission but the trial delivery fails and a
Caesarean section is required, some hospitals will charge an additional fee or change the package to a Caesarean section plan with additional surcharges or emergency surgery fees. As another example, if a woman suddenly goes into labour, breaks water and requires an emergency Caesarean section outside normal office/ operating theatre hours, the hospital will charge an additional fee.
Other considerations
In addition to considering the services included in the fee, consumers should also pay attention to the following 5 points when selecting a maternity package:
1. Number of fetuses
The charges for maternity packages are usually based on single-baby deliveries. In case of multiple births, starting with the second baby each will be charged an additional fee, which should be clarified beforehand.
2. Bed supply
Sometimes, due to the tight supply of beds in the hospital, the mother can only choose the corresponding room class and maternity package according to the occupancy situation when registering for admission to the hospital. In the past, there were complaints regarding mothers having to be allotted a temporary bed due to insufficient beds in the hospital and resulting in subsequent disputes over the charge of bed changing fees. Therefore, it is necessary to communicate clearly with the hospital in this regard.
3. Plans cannot be changed midway
In general, once consumers have chosen a maternity package, they cannot change, cancel, or get a refund or change the attending physician. Some plans also specify that any changes to the attending physician may result in an additional administrative fee.
4. Admission procedures
Some hospitals require pregnant women to register with the hospital through their obstetrician in advance. Otherwise, they will not be admitted to the hospital. They should also pay attention to the documents that must be brought with them when they are admitted to the hospital, such as identification documents, doctor's letters, prenatal blood test reports and a deposit. If the prenatal blood test report is not presented at the time of admission, or the prenatal examination was not conducted in Hong Kong, some hospitals may levy an additional surcharge.
5. Package exclusions
If during childbirth, the mother requires other surgeries at the same time, such as ovarian tumor removal, cecum removal, etc., the maternity package will no longer apply.
If you want to get more details about private hospital maternity packages, as well as past complaints, you can download for free [Issue 404 of "Choice" monthly magazine: Private hospital maternity package minimum charge difference up to over $10,000; Chinese version only].
Related Articles