"Cognitive impairment", "senile dementia" and "Alzheimer's disease" – are these the same?
Dementia (or cognitive disorder) is a neurodegenerative disorder which leads to a decline in brain function. The patient's memory, comprehension, language skills, learning capacity, social skills, and judgment, etc., can be affected. Some may also have emotional, behavioural or sensory problems.
Depending on the cause, dementia can be divided into 3 main categories, and Alzheimer's disease is the most common one:
| | |
| --- | --- |
| 1. Alzheimer's disease | This is the most common type of dementia, the main cause of which is still unknown; to some extent it may be related to family history. It is generally believed that the brain cells degenerate and die because of a build-up of abnormal beta-amyloid protein and neurofibrillary tangles in the brain. The patient will experience a gradual decline in brain function, and currently there is no cure for this disease. |
| 2. Vascular dementia | This is the second most common type of dementia, and is caused by stroke or chronic cerebral embolism which damages the brain and leads to brain degeneration. Patients suffering from multiple strokes may experience a sharp decline in their cognitive abilities. Since damaged brain cells cannot be recovered, the main treatment is to reduce the risk of another stroke and the harm that it might cause. |
| 3. Other types of dementia | Such as dementia with Lewy bodies, Parkinson's disease, dementia caused by brain trauma, alcohol or drug abuse, or brain infections (e.g. mad cow disease), etc. |
Apart from memory loss, one should watch out for the following symptoms in the elderly:
Alzheimer's disease

Early stage: Become forgetful, especially regarding recent conversations, events, and people's names; have poor judgment; may show mood changes including tension, anxiety and depression.

Middle stage: Have difficulties in expressing themselves; struggle with perception of time; experience a decline in self-care abilities (e.g. may require assistance in cooking and bathing); and can be emotionally unstable.

Late stage: Have poor language comprehension; lose self-care abilities (e.g. may become double incontinent, have difficulties in eating, or have mobility problems); become lost and confused easily, experience personality and behavioural changes; become apathetic.

Vascular dementia

Early stage: Have difficulties with judgment, decision-making, planning, or organisation.

Depending on the location of the cerebral embolism, stroke or hemorrhage, the affected area and extent of damage to the brain, the degree of cognitive or motor impairment can vary from person to person.
If any of the above symptoms are detected in an elderly person, it is advisable to consult a doctor as soon as possible. If necessary, ask to be referred to a specialist, clinical psychologist, or specialist department, or be taken to a memory clinic or day care centre that provides specific care and training services for patients with dementia, for a detailed assessment.
Is dementia not curable?
There are 2 types of treatments for dementia – medical and non-medical:
| | |
| --- | --- |
| Medical treatments | Include dementia medication that may slow down the progression of symptoms, and psychiatric medication that relieves the behavioural and emotional problems associated with dementia. |
| Non-medical treatments | Include cognitive training, reality orientation, reminiscence therapy, multi-sensory stimulation, daily living skills training, music therapy, brain exercises, hand-eye coordination training, etc., which are aimed to slow down cognitive decline and tackle behavioural problems. |
Day care centres devise different activities for patients with dementia, providing them with cognitive training to slowdown cognitive impairment (e.g. rhythmic activities to train body coordination, and chess games to train cognitive abilities).

An example of sensory stimulation activities – participants sit around a computer-projected picture on the floor and move their hands to alter the pattern.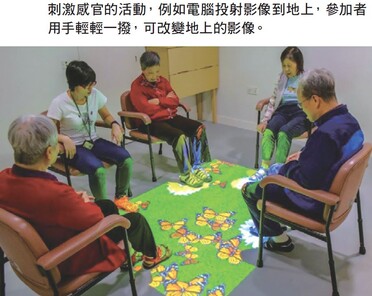 Certain self-financing and government-funded day care centres for the elderly are providing such training services. These centres devise different activities and training programmes, such as morning exercises, games, cognitive training and interest classes, etc., to enhance patients' abilities and self-confidence, maximise existing functions and slow +down cognitive decline. However, the service hours and charges vary amongst these institutions. For example, the services can be either half- or full-day; government-funded day care centres can use government subsidies to provide services to patients, but there is a long waiting list; some centres may only serve patients in designated areas. Consumers should therefore pay heed.
If patients cannot go to day care centres, there are also institutions that provide outreach cognitive training services. Occupational therapists or trained personnel can provide one-on-one training, and most of these services are charged per visit / session.
A dingy and cluttered room can be hazardous!
It is important to provide a dementia-friendly environment for patients so that they can maintain their usual lifestyles to the greatest extent possible. Below are some key points to note:
| | |
| --- | --- |
| Home environment | Improve indoor lighting (such as bringing more natural light into the room and installing night lights) to prevent patients from feeling confused and mixing up things. In addition, put colour labels on the light switches to make it easier for the patients. At the same time, it is advisable to maintain a non-slippery environment (such as using anti-slip mats, installing appropriate handrails, and making use of shower chairs, etc. |
| Keep the place tidy | Keep the home environment tidy to prevent the risk of falls, but don't change room settings frequently which may confuse patients. Put away items that are seldom used inside cupboards. For frequently used items, place them in a prominent location so that patients can easily find them. Unsafe or hazardous objects should be properly stored, e.g. put away cleansing products so that patients won't confuse them with food seasonings. |
5 tips on how to take care of dementia patients
Taking care of someone with dementia is not easy as there are many aspects of daily life that will need attention. But there is no need to feel overwhelmed. The Consumer Council has put together the following key areas to help you with the task:
| | |
| --- | --- |
| 1. Set up a daily routine | Help the patient maintain a regular lifestyle by devising a daily routine according to his or her living habits (such as getting up, morning exercise, going to yum cha, and bathing, etc.) At the same time, encourage the patient to participate in household activities (such as doing light housework) and leisure activities (such as calligraphy), which can help slow down the rate of cognitive degeneration. However, avoid strenuous activities, and control the noise level and turn off unnecessary sounds, so as not to affect the patient's sleep quality. |
| 2. Maintain good communication | When speaking to the patient, remember to make eye contact. Make sure that the content and vocabulary used are simple and clear, the tone is gentle, and the articulation is clear. If the patient has difficulty expressing, listen patiently. Also, try to have more physical contact with the patient (such as giving massages or trimming nails), so that the person can feel the love and care. |
| 3. Participation of family members | The patient's condition will deteriorate over time and become increasingly dependent on others. Therefore, all family members should get involved in taking care of the patient from the beginning and share the workload together. |
| 4. Make good use of available resources | Consider hiring a domestic helper to help in cleaning, delivering meals, or escorting, etc., thereby easing some of the daily burden. At the same time, participate in support groups or sharing sessions for caregivers, which are good for sharing experiences and difficulties, releasing emotions and learning from each other. |
| 5. Maintain a healthy lifestyle | Caregivers should also look after themselves by having normal entertainment, social lives and hobbies, so that they can have proper relaxation. |
For more information on support services for people with dementia, please refer to the article "Be Careful in Selecting Care and Support Services for Dementia Patients" (Chinese version only) in Issue #479 of CHOICE Magazine.
Further Reading: Understanding osteoporosis
Elderly people are prone to developing osteoporosis (even without knowing it), and this disease can be fatal in severe cases! Click and read the article "Trivia About Osteoporosis: People Will Become Easier Targets for the 'Silent Killer' During Menopause" to learn more about living habits that may lead to osteoporosis and how to prevent it.
Further Reading: Tooth loss in the elderly
Many elderly people have dental problems, but "growing old and losing teeth" is not necessarily inevitable. You may refer to the article "Trivia About Teeth: Don't Want to Grow Old Without Your Teeth? Tips on Prevention" (Chinese version only) to learn more about the causes and prevention, so that you can help the elderly fight the problems of "missing teeth" that may affect their chewing and speaking abilities.
Related Articles