1. Number of sheets and size
The Consumer Council (or the "Council") found that the average number of sheets per roll from different brands was roughly between 200 – 300, which represented a difference of about 100 sheets. The total length of each roll also varied, ranging from 20m – 40m, which was a two-fold difference.
2. Net weight
Since the length, width, and thickness of toilet paper from different brands are different, in addition to evaluate its value for money by length, we can also consider its net weight. The net weight of a toilet roll (i.e., after removing packing material and paper tube) on the market ranged roughly between 80g – 200g. The price of toilet paper per 100 g of net weight ranged between $1.6 – $3.6, which again represented approximately a two-fold difference.
3. Paper quality
Of course, judging whether the toilet paper is of good value depend not only on its net weight, we should also consider the paper quality. Generally speaking, 4-ply paper had more strength than 3-ply paper. Most of the samples tested by the Council scored well in moisture absorption and softness.
4. 12 rolls vs. 10 rolls package size, which one is better?
Even a savvy consumer may not know which package size (12 rolls vs. 10 rolls) represent better value for money. The Council had tested various samples from brands that offered both sizes and found that the average net weight and price per toilet roll were similar in both package sizes. But overall, the 12-roll size was still a better choice in terms of value for money.
5. Pick the right place to buy toilet paper
Do you usually buy toilet paper from a supermarket or a pharmacy? From the Council's investigation, it was found that the prices of toilet paper in drug stores, pharmacies or household stores were generally more stable than those in supermarkets. But the choice of brands and models might be limited. Furthermore, supermarkets tended to launch promotions on different brands and models from time to time, and typically gave discounts for bulk-buy. Therefore, consumers are advised to make comparisons between different suppliers. Spend some time to save more money!
6. Toilet doesn't have a strong flush? Pay attention to how easy the toilet paper disintegrates!

Reminder: If you tend to use more toilet paper each time, but have a weak-flushing toilet or a drain pipe that is prone to blockage, you then need to pay attention to the ease of disintegration of paper in water and disposal through sewage. The Council had conducted a test previously and put different brands of toilet paper in water which was constantly stirred. It was found that some samples did "break up "after 8 minutes, but the sizes were still quite big, and took longer time to disperse.
In addition to the above indicators, the Council also found that toilet rolls that are heavier, more tightly rolled, not easy to squeeze, and have a larger diameter but a smaller tube are generally of better value. Toilet paper that has been embossed is usually loosely rolled.
7. Environmental protection can also be a consideration
Consumers may also want to consider from an "environmental" perspective. Unlike other papers, toilet paper can't be recycled. Just imagine the number and speed of trees being cut down if we only use wood pulp to make toilet paper. It is still quite rare in Hong Kong to find toilet paper that has certain recycled content. However, a few models on the market indicate that they use materials which come from plantations or forests that are certified by Forest Stewardship Council (FSC), which is a third party organization that promotes responsible management of forests. Consumers may consider these products when making purchase decisions.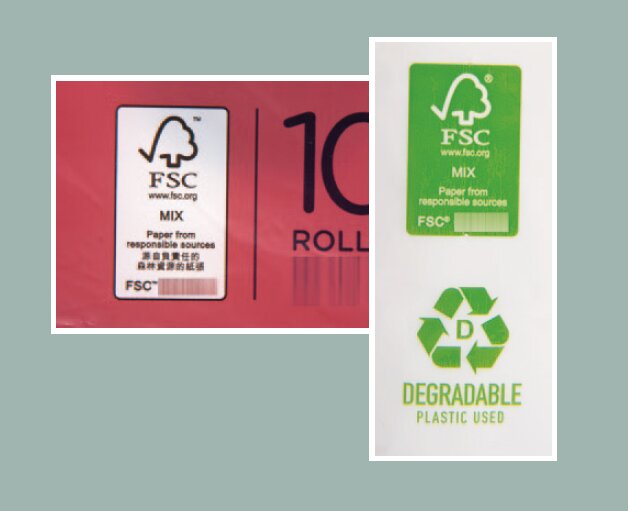 In addition to wood pulp, you may have seen unbleached toilet paper that is made from bamboos. Bamboos grow faster than trees and have a shorter growth cycle. The use of bamboos may lessen, to some extent, the need to cut trees. By retaining its raw color and not using bleach or whitening chemicals, these bamboo products can help in reducing pollutants during the manufacturing process and adverse impact on the environment and forests. At the same time, they can also reduce consumers 'exposure to chemical substances.
Finally, don't miss the article, "Tests on Strength, Softness and Hygiene Measures of Toilet Paper. 2 Models Scored Well". CHOICE Magazine, Issue 499. (Chinese version only). The Consumer Council tested samples of 25 different models of toilet paper on the market to compare their strength, softness and moisture absorption properties, etc. After reading this report, you will know which model performed better!
Related Articles