The Electrical and Mechanical Services Department (EMSD) today (June 9) advised consumers to stop using "Targus" All-In-One Universal Plug Adaptors for safety reasons.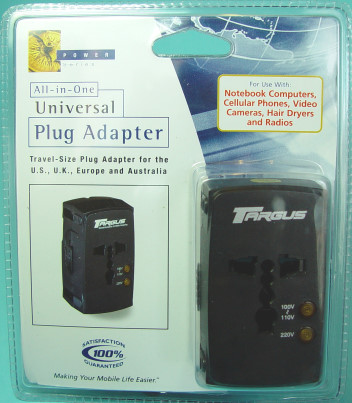 The appeal was made after the supplier of the product, Targus International Group, approached the department for the voluntary recall of the adaptors, which had been supplied since November 2002.
A recent investigation by the company revealed that the adaptors could pose a potential fire hazards and a risk of electric shock to users due to a construction defect.
The adaptors, bearing the brand name, "Targus", on the front panel, have a switch marked "USA/Aust/NZ" or "Europe" or "UK" at the side. They also bear the model numbers beginning with PA033 followed by B, U, C, E, BX, Y001X or Y002X on the back of the packaging.
Consumers are advised to return these adaptors to the supplier through designated collection centres for a refund as soon as possible.
Consumers may contact the supplier's customer service hotline 800901188 for details of the recall.
Reprinted from : HKSAR Government web page :
http://www.info.gov.hk/gia/general/200406/09/0609182.htm