A spokesman for the Customs and Excise Department today (July 19) appealed to parents to look out for the recall arrangements for a toy xylophone "I'm Toy" which failed to meet the prescribed safety standards for toys.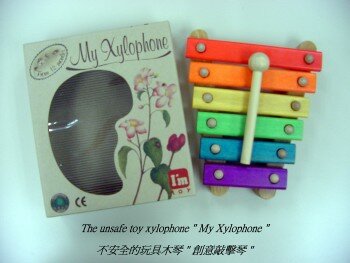 The Department has recently served a Recall Notice on an importer cum wholesaler under the Toys and Children's Products Safety Ordinance to recall the toy, which includes a wooden xylophone and a wooden mallet", said the spokesman.
The spokesman pointed out that during a spot check exercise, the Department had identified the toy xylophone concerned which failed to meet the safety requirements for toys.
As the wooden mallet contained in the toy xylophone can pass through the slot of the specified "Rattle test fixture" and is capable of entering and penetrating to the full depth of the cavity in the specified "Supplementary rattle test fixture", it poses a choking hazard to children under three years of age.
The toy has been assessed to have high risk of causing a serious injury. The importer cum wholesaler will be prosecuted in due course.
Those who have the toy should return it to the wholesaler from July 19 to September 18, 2001 or call the company at 2612 2692 for details", the spokesman said.
Under the Toys and Children's Products Safety Ordinance, it is an offence to manufacture, import or supply a toy unless the toy complies with one of the following sets of safety standards:
(a) International Voluntary Toy Safety Standard;
(b) European Standard EN71;
(c) ASTM F963.
The Ordinance carries a maximum penalty of a fine of $100,000 and imprisonment for one year on first conviction, and $500,000 and two years on subsequent conviction.
For enquiries and complaints regarding unsafe toys and children's products, consumers can write to the Consumer Protection and Prosecution Bureau, Customs and Excise Department on the 11th floor, North Point Government Offices, 333 Java Road, North Point, Hong Kong, or call the Customs hotline at 2545 6182.
Reprinted from HKSAR Government web page :
http://www.info.gov.hk/gia/general/200107/19/0719119.htm