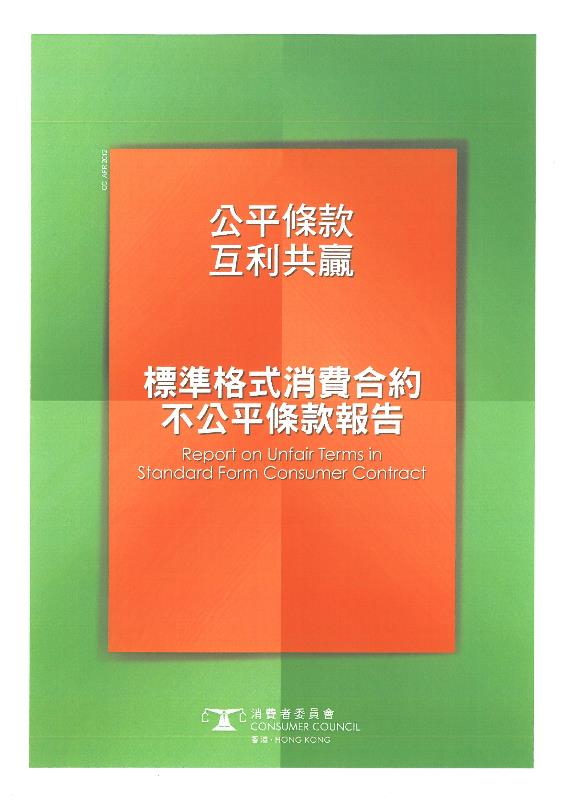 Introduction
Standard form contracts are prevalent in today's marketplace for businesses to devise in advance, without individual negotiation, the terms and conditions of supply.
Preprinted standard forms are convenient as they shorten the time for suppliers and consumers to enter into agreement. However, because they are drafted by the supplier they are inherently one sided. Due to superior bargaining power and information asymmetry in its favour, a business may seek to tilt the balance towards itself, at the expense of consumer interests. Because these contracts are presented on a take it or leave it basis, consumers are not in a position to bargain with suppliers. Even if consumers are aware that the terms are unfavourable, their main consideration is the price and quality of the good and service on offer. Typically, consumers will proceed with signing the contract, hopeful that disadvantageous terms will not be exploited.
Through its work, the Consumer Council ("the Council ") has found that some standard form consumer contracts include unfair terms that are contrary to the requirement of good faith. The terms thereby cause significant imbalance in the parties' rights and obligations arising under the contract, to the detriment of the consumers, for example, unfair conditions regarding termination, cooling off periods, refunds and legal rights. Significantly, it is not uncommon to find unfair exemption clauses that are intended to exclude or limit the liability of suppliers for breach of contract, negligence, misrepresentation or other breach of duty.
Current Legislation
Hong Kong has enacted some statutory provisions in an effort to limit the extent to which such liability can be avoided. For example:
The Control of Exemption Clauses Ordinance attempts to limit the extent to which businesses can exempt themselves from liability for matters such as personal injury or death resulting from negligence; unreasonable breach of contract; liability for loss or damage caused by negligence; or liability arising from breach of implied obligations owed under the Sale of Goods Ordinance .
The Misrepresentation Ordinance prevents any contracting party from excluding or restricting liability for misrepresentation by means of a contract term, except to the extent that the term satisfies the requirement of reasonableness as stated in the Control of Exemption Clauses Ordinance .
The Supply of Services (Implied Terms) Ordinance incorporates into consumer contracts, implied terms that the supplier will carry out a service within a reasonable time and with reasonable skill and care; and that a supplier's liability arising from these implied terms cannot be exempted or limited by reference to a contract term.
However, these provisions only provide for specific instances of unfairness arising from the use of exemption clauses. Currently, unfair terms which seek to serve purposes other than excluding or limiting liability are not specifically addressed by statute. The only other avenues available are to seek a court ruling to strike out an unfair term if it is ambiguous or if the offending term is unconscionable pursuant to the Unconscionable Contracts Ordinance .
However, these judicial redresses have limitations. An unfair term might not be ambiguous and the rule would therefore not apply, even if the term is patently unfair. The Unconscionable Contracts Ordinance does not provide an exact definition of what is unconscionable but only sets out a non-exhaustive list of factors to be considered by the court. It is most likely that the court would turn to common law for definition, and precedent has determined that the court will tend to focus on the totality of the circumstances and conduct that give rise to unfairness in the bargaining process rather than the meaning and effect of the term alone. In other words, an unfair term on its own is not sufficient to make out a case for unconscionable contract.
Self-Regulation
There have been attempts at addressing unfair terms in consumer contracts through self regulation.
The Code of Practice for Telecommunications Service Contracts issued by the Communications Association of Hong Kong has been implemented since July 2011 . This Code is largely aimed at addressing the issue of fairness in procedural matters, such as style, format and structure of contracts, and rights and obligations regarding unilateral variation of terms by the service provider, automatic extension or renewal of contract, and a cooling-off period. The substance of the terms, with regard to fairness is left unattended and unfair terms can still be found in some telecommunications service contracts. Problems also exist with the way in which cooling off periods are applied.
The Way Forward
Experience from comparable legal jurisdictions, for example, the UK and Australia indicates that a common approach by governments is to introduce broad comprehensive legislation governing a range of consumer issues, including unfair terms in consumer contracts. In 2008 the Consumer Council produced a report entitled Fairness in the Marketplace for Consumers and Business in which it recommended that this comprehensive approach was also suited to addressing problems with consumer protection found in Hong Kong; including unfair contractual terms. While the Government's response to the report has been generally positive, any legislative initiatives it decides to proceed with will take years to implement.
The Consumer Council believes that unfair terms in standard form consumer contracts should not be left unchecked, while there is ongoing debate on the need for a comprehensive consumer protection law. The Council is of the view that businesses are in a position to take positive steps now to honour the principle of good faith and make sure terms in their standard form consumer contracts are fair to the consumers.
To illustrate how businesses can improve their standing in the community, the report sets out guidelines on how to draft standard form consumer contracts fairly, based on issues arising from the beauty services industry, found at Annexure 1. Also included at Annexure 2 is a sample contract that can be used as a template for other sectors.
The purpose of this report is to encourage and assist traders to avoid using unfair terms. The enclosed guidelines and sample contract both cover a range of issues of unfairness in consumer contracts that have been identified by the Council. The Council urges businesses to examine both documents and apply the principles of fairness, as indicated in the documents, to their business model.
Examples of unfair terms and how they can be addressed
Numerous examples of unfair terms falling into 12 categories can be found in local standard form consumer contracts, in various economic sectors. Accordingly, the report
discusses in detail the unfairness of certain terms the Council has identified in local standard form consumer contracts; and
indicates what is considers the appropriate approach that should be taken in relation to the terms.
While the examples might identify particular areas where problems arise, the conduct of specific suppliers is not the subject of this report and the suppliers are therefore not named.
A. Unilateral variation of terms of contract
Unilateral right to vary terms generally without a valid reason specified
It is recognized that some suppliers may have a legitimate need to change terms to conform with changes in their own supply contracts and to accommodate changes in market conditions. Nevertheless, these provisions give arbitrary power to the supplier and may result in an unfair situation where the consumer is made to observe the contract which has been amended to such an extent that the consumer is substantially deprived of what was contracted for.
Therefore, if a supplier has unilateral variation power, the consumer should be given a reasonable time to consider the amendments and the right to terminate the contract without penalty if they are unacceptable, and if prepayment has been made, the unused balance should be returned to the consumer upon termination.
Unilateral right to change the product
This kind of term may address a supplier's concerns where provision of a product is subject to supply by a third party. However, a significant change made to the product supplied may mean that the consumer has to accept something fundamentally different from what was contracted. It appears that these terms intend to shift the risk of commercial uncertainty that should otherwise be borne by the supplier. It is therefore intrinsically unfair and should be amended to the effect that a consumer may terminate the contract at any time without penalty if the supplier makes a significant change to the goods or service contracted for.
Supplier's right to notify variation in a way it deems appropriate
Certain businesses reserve the right to alter and amend terms and conditions from time to time with prior notice in any manner the business deems appropriate. Moreover, the changes take place irrespective of whether the consumer has actual notice or knowledge of the change.
These terms are inherently unfair and should be deleted. Reasonable notice should be given of changes to terms and conditions at all times and a genuine termination right given so that consumers may terminate the contract if they are adversely affected by the change, without penalty, and a deposit or prepayment returned.
B. Excluding or limiting the legal rights of consumers to offset a debt owed to the supplier against any claim which the consumer may have against it
Some subscription style contracts require that all payments are non-refundable and non-transferable and that consumers are required to pay all the fees and subscriptions prior to the period in which the fees and subscriptions relate. In addition, the sum payable cannot, for any reason, whether by common law or equity or otherwise be set-off or deducted. The Council considers that it is unfair that a consumer's legal right to offset is excluded in these circumstances. Such terms should be deleted.
C. Entitlement to "compensation" for early termination
Some contracts place onerous conditions on early termination and are subject to the permission of the supplier. This can result in a situation where a consumer who has suffered damage due to serious default on the part of the supplier may not be allowed to terminate the contract early, or be punished for early determination. Where a supplier is not in default, it may have legitimate reason to claim for loss sustained due to early termination. However, some termination fees exceed damage reasonably suffered by the supplier and thus amount to a penalty against the consumer, which would not be enforceable by a court.
These provisions should be redrafted to the effect that they apply only to cases where the early termination is due to a breach by the consumer; and that compensation should not exceed the losses reasonably suffered by the supplier due to the early termination.
D. Unreasonable exclusion clauses
Exclusion clauses excessively broad and general
Some contracts are couched in terms where the customer agrees that the supplier excludes all liability to the customer and any third party arising out of or in connection with the service in contract, tort and/or otherwise; including direct and/or indirect loss incurred by the customer or any third party. These types of exemption clauses seek to exclude any liability incurred for any reason or in any circumstance. It is very likely that they would be held void for being unfair and unreasonable under the Control of Exemption Clauses Ordinance. As such they should be deleted. Alternatively, they could be amended to satisfy the reasonableness test under that legislation.
Excluding or limiting the legal liability of supplier in the event of personal injury to consumer resulting from an act or omission of supplier
Membership style contracts often state that management or agents shall not be held liable for any personal injury or damage to property, or loss of property, whether arising out of use of facilities or as result of negligence on the part of management, its employees or agents or otherwise.
The Control of Exemption Clauses Ordinance provides that liability for death or personal injury resulting from negligence cannot be excluded or restricted by reference to a contract term. Terms such as these should be deleted.
E. Requiring unnecessary and unreasonable formality
Cancellation of contracts is often allowed but then the service provider places onerous conditions on how to effect the termination. For example, that it is only effective from the next billing cycle, or that it has to be given in the prescribed from, served within a specified time or attendance is required in person at a nominated place.
These requirements are in most cases unnecessary and may in certain cases even be impractical or unreasonable. In particular, where they are coupled with an unreasonable delay to the termination of the contract, they can only be viewed as an obstacle and deterrent to consumers exercising their legal rights. As such they should be deleted.
F. Retaining the right of final decision on any dispute
Some businesses retain the right to final decision in relation to all disputes about the interpretation of the terms and conditions of the contract. Impartiality cannot be ensured in these circumstances as the business is both the adjudicator and a party to the dispute. Either party should have a right in law to bring a dispute to court for resolution. As such, as these terms should be deleted.
G. Entire Agreement Clause
Contracts will often state, in small print, that the document constitutes the entire agreement and understanding between the parties and supersedes all prior arrangements or understandings, whether oral or written, between the parties relating to the subject matter. This term may be susceptible to challenge for unfairness. For example, the Council has found that the term has been used where a supplier attempts to exclude liability for representation or warranty made by its sales personnel during sales talk. Businesses should be aware that the term may be set aside by the court pursuant to the Unconscionable Contracts Ordinance and that a term cannot avoid or restrict liability for misrepresentation unless it satisfies the requirement of reasonableness as stated in the Control of Exemption Clauses Ordinance . As such, the term should be avoided.
H. Cancellation fees or penalties
Some contracts have been found to state that a "cooling off" period is provided but that in order to terminate, a signed cancellation request form must be delivered in person and the purchaser's right to refund, if any, is subject to an onerous termination fee. Firstly, this sort of provision is not a 'cooling off' period, but a termination clause. Secondly, it is inherently unfair that in order to exercise the right of termination a consumer has to pay a considerable sum of money that is designed to be a penalty far exceeding the costs and losses incurred to the supplier due to the cancellation.
These terms should be redrafted to the effect that the supplier is only entitled to the compensation representing the losses reasonably incurred to him due to the termination.
I. No refunds
Terms stating that the customer shall not be entitled to any refund under any circumstances are commonly found in contracts under which consumers make substantial prepayments. Faced with this term, consumers may be misled into believing that they have no legal rights to seek redress even when the supplier is in serious default. Also, such terms enable the suppliers to take unfair advantage of the consumers when the consumers terminate the contract early. The consumers would lose all his prepayment regardless of losses caused to the supplier by their early termination.
Such terms should be deleted.
J. Unreasonable restriction of consumer's legal rights
Consumers are sometimes subject to terms that if they terminate a contract they shall not mention the content of the service or business matters of the other party to any persons, including the mass media and on-line discussion forums; otherwise legal proceedings may be taken against them. Other terms might state that the consumer understands that certain unpredictable risks may arise during the course of a treatment and that the customer bears all physiological or psychological risks. Yet others stipulate that the customer is prohibited from lodging any complaint directly or indirectly with any government, court, semi-official organization or mass media.
These restrictions are so broad that they may deprive consumers the right to freedom of speech and expression and the right to seek redress. They go far beyond the protection of legitimate interest in reputation and proprietary interest in trade secrets. It is strongly arguable that such a term is ineffective on the grounds that it is unconscionable. Moreover, they might be misled to believe they cannot file a complaint with the Consumer Council.
These terms should be deleted from consumer contracts as they would fall under the Control of Exemption Clauses Ordinance , and most likely be considered void for being unconscionable.
K. Automatic renewal of contract
It is common for some contracts to stipulate that upon expiry of a commitment period, the subscription for services will be automatically renewed.
These terms are considered unfair if there is no accompanying term requiring the supplier to give a clear and conspicuous written reminder to the consumer at a reasonable time before the contract expires, and notice of any increase in fees or limitation in service.
L. Read and Understood Declaration
Declarations purporting that the consumer has read and understood the contract are common. However, many standard form contracts are long and complex, and a consumer may not be able to fully read it before signing, or even understand its full implications. It is not uncommon for a consumer to be asked to sign the declaration even where it is clear it has not been read. In these circumstances, the risk of unfairness by resorting to onerous terms in the contract is apparent.
For long and complex consumer contracts, such a declaration should be deleted. With simple and short consumer contracts, a declaration should be replaced by a clear and prominent warning that the consumer should read and understand the terms before signing the contract. The warning should be placed before the terms and conditions so that the consumer is reminded to read the terms and where necessary ask for further information or clarification before signing the contract.
Conclusion
The examples of unfair terms discussed in the report are indicative of the concern that consumers have with the practice of some businesses in Hong Kong. The use of terms which are superfluous, draconian or convoluted are not in the long term interests of a business. Rather, they are likely to make the contract unnecessarily complicated, raise suspicion on the part of consumers as to the motives of the business, and increase the risk and costs of resolving disputes.
In addition, a standard form consumer contract should be fair not only in substance but also in form. It is fair only when it is legible and intelligible. Apart from using plain and ordinary language, a standard form consumer contract should be short and simple .
The principles of good faith and fairness can also be manifested by a cooling-off arrangement that allows consumers a reasonable period of time after they entered into contract to reconsider issues affecting their decision to buy, such as their actual needs and affordability; and renders them a right to cancel the contract without any condition except payment for administrative costs reasonably incurred by the supplier as a result of the cancellation, and reasonable charges for goods and/or services used during the period.
It is the Council's position that such a cooling-off arrangement should apply to fixed-term contracts and prepaid contracts, particularly those with long-term financial commitment or of substantial value.
Adopting fair terms in consumer contacts indicates the determination of businesses to abide by the principle of good faith and helps the business develop goodwill. In this regard a business can avoid
the risks and costs that would otherwise be borne through consumer disputes;
legal challenges by consumers and associated costs in defending legal claims;
having to spend extra time and resources to deal with complaints or legal challenges.
A consumer contract that contains unfair terms is evidence that a business neither treats consumers fairly nor acts in good faith. The natural response by consumers in these circumstances is mistrust towards the business concerned. A fair consumer contract will serve the best interests of consumers, businesses and society.
The Council trusts that this report, with annexures, will form the basis for businesses to review their consumer contracts and ensure that the principle of fairness, good faith and honesty in trade is fully observed and that consumers are treated fairly.