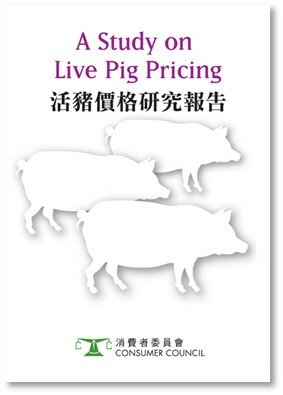 Introduction
In 2007 the Mainland authorities authorised two more companies - Guangnan Hong Limited (GNH) and Hong Kong Agriculture Special Zone Limited (ASZ) to supply live pigs to Hong Kong, in addition to the existing authorised supplier of live pigs, Ng Fung Hong Limited (NFH). The increase in the number of pig agents provided additional channels through which live pigs could be supplied to Hong Kong.

On 15th January 2008, the wholesale price of live pigs surged 70 percent from the previous day's auction trading price of HK$1,400 per 100 catties to a record high of HK$2,400 in the first few bids in the morning session of the auction. By mid-afternoon of 15th January, NFH and buyers decided to adopt an allocation system with the result that the wholesale price went down to about HK$1,600 per 100 catties.

Some buyers alleged that the price hike was due to a drop in the number of live pigs transported to Hong Kong. However, import figures indicated that the supply was in fact stable in the first half of January 2008. The supply of live pigs on 14th January was about 4,100 and it was expected that the supply would be maintained at the level of about 4,000 head per day for the next two days.

On the next day, 16 January 2008, wholesale price of live pigs at the Sheung Shui slaughterhouse dropped to HK$1,800 per 100 catties, sharply down from 15th January's record high of HK$2,400. Some meat shops raised fresh pork price to HK$48 a catty on the 15th January when it was only HK$40 on the 14th January. In addition, some meat retailers claimed that the price could rise to HK$56 a catty if the wholesale price did not drop. The retail price of fresh pork had almost increased more than 60% in a year at around $39 per catty in April 2008.

Concerns were raised in the Legislative Council that the recent pork price fluctuations were "unusual" and a concern was expressed that market conditions might be "unhealthy". Many LegCo members from various parties pressed for an investigation into the price surge, and the Financial Secretary noted that the Consumer Council (CC) would look into the matter and the relevant Government Bureau and Department would also cooperate to monitor developments in responding to the LegCo members' concerns.

This report represents the results of inquiries the CC has made, and its analysis of data provided by the Government and publicly available information, in order to ascertain what features might exist in the structure of the marketplace for fresh pork, and what conduct can be observed that might indicate some forms of anticompetitive conduct.