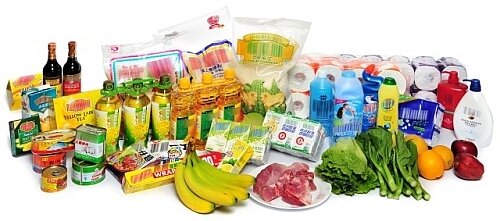 The Consumer Council today (May 27) released its weekly price survey on a basket of 40 food and household items available at major supermarket chains and other retail outlets in the Kowloon City District.
In the analysis were listed the top 10 products with the most price differences found in this survey. Top on the list was: Lasting Care Hand Balsam 80ml (from $9 to $19.9, or a price difference of 121.1%).
Following closely (between 68.1% and 52%) were: Decongestant Analgesic Ointment 28g ($16 to $26.9, or 68.1%); Sunplay SPF130 35g ($48 to $77.9, or 62.3%); 2-in-1 Disinfectant Floor Cleaner 3L ($26 to $39.9, or 53.5%); Almond Cracker 133g ($9.8 to $14.9, or 52%).
The remainders 5 of the top 10 list (ranging from 50% to 41.4%) were: Tomato Ketchup 340g ($5 to $7.5 or 50%); Deodorant Sensitive Extra Mild 50ml ($12 to $17.9, or 49.2%); Mopidick 50ml ($21 to $30.2, or 43.8%); Thermal Recovery Shampoo 900ml ($44 to $62.9, or 43%); Kitchen Cleaner Trigger 500g ($14 to $19.8, or 41.4%).
Other highlights in this weekly price survey covering (a) prepackaged food products, (b) household and personal care products, and (c) fresh produce, include:
Prepackaged Food
A total of 18 items in this category at 15 retail outlets, covering major supermarket chains, health-and-beauty chains, frozen food outlets, grocery and snack food stores in the Kowloon City District, were compared for their prices.
Considerable differences between the lowest and the highest unit prices were recorded, ranging from 13% to 52%.
Household/Personal Care Products
A total of 18 items in this category at 12 retail outlets was surveyed, with price differences ranging from 16.1% to 121.1%.
Overall, prices at individual health-and-beauty chains and household goods shops were generally higher than those at drugstores. Some major supermarket chains offered bulk purchase inventives, for example, 2 chains offered Toilet Bleach 500ml at $23.8 and $24.9 for 2, averaging $11.9 and $12.5 each respectively, but even after the discount they are still more expensive than individual drugstores. 1 health-and-beauty chain offered Fresh Mint Flavour Toothpaste 200g at $37.9 for 2, averaging $19 each, thus bringing the price closer to drugstores.
Fresh Produce
Due to possible variations in the place of origin, quality, size or freshness of fresh produce, direct price comparison is considered not suitable.
A total of 4 items from 2 to 4 stalls at the Kowloon City Market and 2 supermarket chains were included in the survey for reference of consumers.
Results of the weekly price survey are available on the Council's website, its Consumer Advice Centres, and the Public Enquiry Service Centre of Kowloon City District Office.