The Electrical and Mechanical Services Department (EMSD) today (December 4) advised consumers, for safety reasons, to stop using "Philips" SL Electronic Prismatic light bulbs, which were manufactured between January 2000 and April 2001.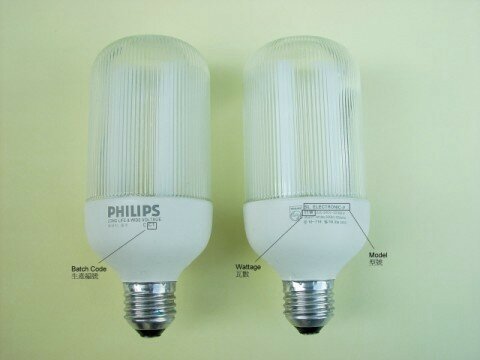 Acting on a complaint through EMSD, the supplier (Philips Electronics Hong Kong Limited) found that a portion of the light bulbs concerned might have uneven application of glue for anchoring the external glass bulb to the plastic mount, thus posing risk of detachment of the glass bulb. The supplier, therefore, decided to conduct a voluntary recall of the light bulbs.
Consumers are advised to return these light bulbs bearing the following identification markings to the supplier through designated collection centres as soon as possible. The supplier will offer an improved light bulb for replacement.
Model

Wattage

Batch Code

SL Electronic-P

11W, 15W, 20W

A0, B0, C0, D0, E0,
F0, G0, H0, J0, K0, L0,
M0, A1, B1, C1, D1
Details of the recall can be obtained from the supplier's customer service enquiry hotline 2821 5300 or website at   http://www.lighting.philips.com.hk/sle.
Reprinted from : HKSAR Government web page
http://www.info.gov.hk/gia/general/200212/04/1204169.htm