The Department of Health (DH) today (September 13) urged members of the public not to buy or take a slimming product under the name of "Imelda Fat Reducer" which contains fenfluramine.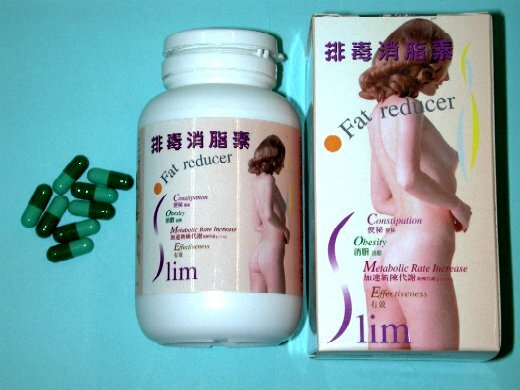 Source: Department of Health
The appeal followed a complaint against the product on September 3 from a member of the public. Acting upon the complaint, a sample of the product was collected from a beauty centre. Laboratory test of the slimming product revealed that it contained fenfluramine.
Assistant Director of Health (Special Health Services) Dr Cindy Lai said initial investigation suggested that the product was distributed by a wholesaler in Cheung Sha Wan to more than 100 beauty centres in Hong Kong.
"More than 1 400 bottles of the product were seized from the wholesaler's premises in Cheung Sha Wan. The person-in-charge of the agent was ordered to recall all the products from the market. Investigation is still going on.
"Inspections are being conducted at beauty centres to check whether there are any other slimming products which may be adulterated with fenfluramine or other drugs.
"We have also carried out inspection in local dispensaries and medicine companies to ensure that 'Imelda Fat Reducer' is not on sale in the local market, and such products have not been found by us," Dr Lai said.
She urged members of the public not to buy or take such slimming product as fenfluramine, a western medicine, has been de-registered in Hong Kong since January 1998 for its association with heart disease.
"People who have been using the product should stop taking it immediately and call DH Hotline 2961 8966 for medical advice.
"Operators of beauty centres should immediately stop selling product with this brandname to their customers and call the same Hotline for surrendering the product to DH for examination.
"Those who have been taking 'Imelda Fat Reducer' and develop symptoms suggesting impaired heart function like shortness of breath should see a doctor as soon as possible," Dr Lai said.
Members of the public who have used the product can call the hotline which will be operated from 9 am to 5 pm daily.
Dr Lai reiterated that a balanced diet and adequate physical exercise are the crucial factors in keeping fit and healthy. Members of the public should consult their doctors before they take any medicine or health product for weight control.
Source : HKSAR Government web page
http://www.info.gov.hk/gia/general/200209/13/0913264.htm
Other related news: