In view of the latest development of the COVID-19 pandemic, our public service counters have been resumed.  Consumers may call our hotline 2929 2222 to make appointments for enquiries, complaints and gift redemption at our Consumer Advice Centres. Alternatively, consumers may make use of our web forms via the following links for enquiries and complaints:
Recall of Zerbaxa Powder for concentrate for solution for infusion 1g/0.5g (with photo)
The Department of Health (DH) today (December 17) endorsed a licensed drug wholesaler, Merck Sharp & Dohme (Asia) Ltd (MSD), to recall all batches of Zerbaxa Powder for concentrate for solution for infusion 1g/0.5g (Hong Kong Registration Number: HK- 65156) from the market due to a potential quality issue.
 
The DH received notification from MSD that several batches of the above product produced recently have failed the sterility test before release. While these batches have not been released to the market and the batches supplied to the local market have passed the sterility test, MSD is recalling all batches of the product as a precautionary measure.
 
The above product, containing ceftolozane and tazobactam, is an antibiotic for the treatment of bacterial infections. According to MSD, the product has been supplied to the Hospital Authority and private hospitals. Some products were also re-exported to Macao.
 
MSD has set up a hotline (3971 2928) to answer related enquiries.
 
"So far, the DH has not received any adverse reaction reports in connection with the affected product. The DH will closely monitor the recall," a spokesman for the DH said.
 
"Patients who require use of the above product should seek advice from their healthcare professionals for appropriate arrangements. There are alternative medicines available on the market with similar indications," the spokesman added.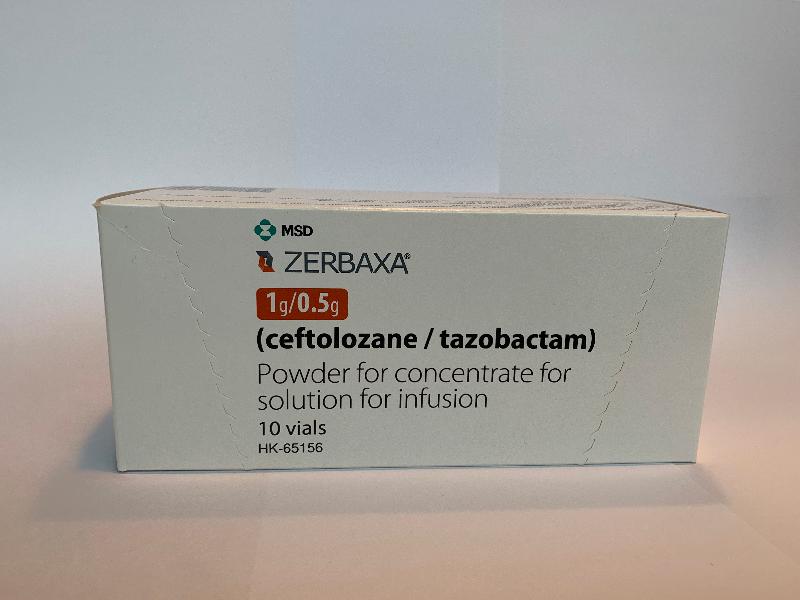 Reposted from HKSAR Government webpage:
https://www.info.gov.hk/gia/general/202012/17/P2020121700377.htm