In view of the latest development of the COVID-19 pandemic, we will gradually re-open our public service counters that have been closed since the fourth wave outbreak of the pandemic.  Consumers may call our hotline 2929 2222  to make appointments for enquiries, complaints and gift redemption at our North Point and Tsim Sha Tsui Consumer Services Centre. The other two Consumer Advice Centres at Tsuen Wan and Shatin will remain close for the time being. Alternatively, consumers may make use of our web forms via the following links for enquiries and complaints:
Recall of Salonpas Advanced Formula Patches two-patches pack (with photo)
The Department of Health (DH) today (November 11) endorsed a licensed drug wholesaler, Hisamitsu Pharmaceutical (Hong Kong) Co Limited, to recall all batches of the two-patches pack of Salonpas Advanced Formula Patches (Hong Kong Registration Number: HK-50034) from the market as a precautionary measure due to a quality issue.
The DH received notification from Hisamitsu that all batches of the two-patches pack of Salonpas Advanced Formula Patches are being recalled in Japan, as the content of one of the active ingredients in the product concerned failed to meet the product specifications during a long-term stability study. Although the product would not cause health harm to users, the quality issue might affect product efficacy. As a precautionary measure, Hisamitsu is recalling the relevant pack size of the product in Hong Kong.
Salonpas Advanced Formula Patches, containing methyl salicylate, menthol, camphor and vitamin E, is an over-the-counter medicine used externally for the treatment of muscle pain. The product was distributed by DKSH Hong Kong Ltd. According to the distributor, two-patches packs have been supplied to pharmacies, medicine stores and some local trading companies free of charge as samples. Some products were also re-exported to Macao.
Hisamitsu has set up a hotline (2778 0231) to answer related enquiries.
"So far, the DH has not received any adverse reaction reports in connection with the product and will closely monitor the recall," a spokesman for the DH said.
"Patients who are using the above product should seek advice from their healthcare professionals for appropriate arrangements," the spokesman added.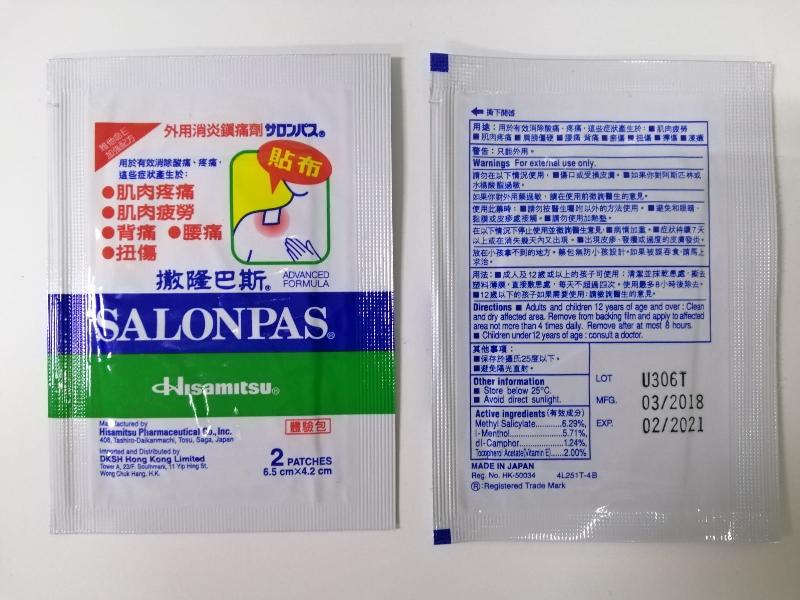 Reposted from HKSAR Government webpage:
https://www.info.gov.hk/gia/general/202011/11/P2020111100641.htm