In view of the current widespread of COVID-19 and to reduce social contact, consumers are advised to call our hotline at 2929 2222 or make use of our web forms via the following links:
Consumer Enquiry Form / Consumer Complaint Form
Consumers may also call our hotline at 2929 2222 for gift redemption and enquiry services at our Consumer Advice Centres by appointment if needed.
Batch Recall of Cyramza Concentrate For Solution For Infusion 100mg/10ml (with photo)
Medicine recalls
 
Batch Recall of Cyramza Concentrate For Solution For Infusion 100mg/10ml (with photo)
 
The Department of Health (DH) today (December 10) endorsed a licensed medicine wholesaler, Eli Lilly Asia, Inc. (Eli Lilly), to recall one batch (Batch No.: D086749A) of Cyramza Concentrate For Solution For Infusion 100mg/10ml (Hong Kong Registration Number: HK-64421) (Cyramza) from wholesale level due to a potential quality issue.
The DH received notification from Eli Lilly that the a vial containing broth medium was found being mixed up in a batch of the above product. This batch was repackaged and supplied to Hong Kong under the batch No. D086749A. Preliminary investigation by the manufacturer found that the vial of broth medium was probably introduced to the batch of Cyramza from previous processing steps. The vial of broth medium does not contain active ingredient and its content differs from Cyramza in both color and volume; therefore, vials of broth medium should be readily identified by visual inspection. As a precautionary measure, Eli Lilly is initiating a wholesale-level recall of the affected batch.
The above product, containing ramucirumab, is a prescription medicine used to treat advanced gastric cancer, metastatic colorectal cancer and non-small cell lung cancer. According to Eli Lilly, the affected batch have been supplied to the Hospital Authority, private hospitals and private doctors.
Eli Lilly has set up a hotline (2964 2966) to answer related enquiries.
Healthcare professionals should carefully inspect the vials for any discoloration before using the product. The volume of the broth vial is smaller than that of Cyramza vial and the broth content is yellow to light brown colour. Eli Lilly will also provide advice to affected healthcare professionals and hospitals and will replace the batch of product when unaffected batches are available.
So far, the DH has not received any adverse reaction report in connection with the concerned batch of product. The DH will closely monitor the recall.
Patients who have used the above product should seek advice from their healthcare professionals if in doubt.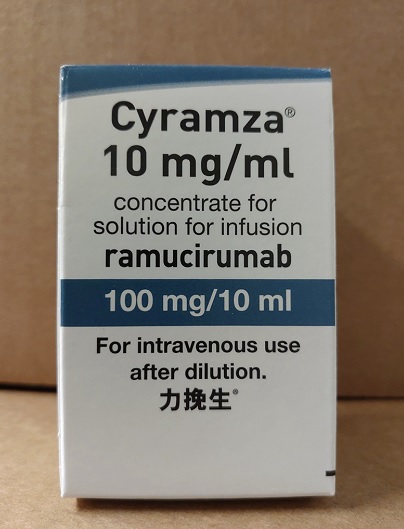 Reposted from HKSAR Government webpage:
https://www.drugoffice.gov.hk/eps/news/showNews/Batch+Recall+of+Cyramza+Concentrate+For+Solution+For+Infusion+100mg%EF%BC%8F10ml+%28with+photo%29/pharmaceutical_trade/2019-12-10/en/38957.html