Resumption of public service and special arrangement of Consumer Advice Centres
Consumer Advice Centres located in Tsim Sha Tsui, North Point, Sha Tin and Tsuen Wan have resumed normal service. 
To reduce the risk of the spread of COVID-19, social distancing and other precautionary measures will be implemented at our Advice Centres.
Visitors are required to:
Make prior appointment for service by calling the hotline 2929 2222;
Wear surgical face masks and take a body temperature check before entering the Centres;
Wait in a designated waiting area in order to reduce social contacts with other visitors.
(Notes:  Visitors may experience a longer waiting time because of the precautionary measures.)
Members of the public who wish to lodge complaints or make enquiries are strongly encouraged to contact the Consumer Council through the hotline 2929 2222 or online forms. 
Recall of three batches of Nutriflex Omega Special Emulsion for Infusion (with photo)
   The Department of Health (DH) today (October 31) endorsed a licensed medicine wholesaler, B. Braun Medical (HK) Ltd, to recall three batches of Nutriflex Omega Special Emulsion for Infusion (Hong Kong Registration Number: HK-60999) from the market due to a potential quality issue.
     The affected products are listed below: 
Pack size
Batches
1,250 millilitres
174738051
182838052
1,875ml
174938051
     The DH received notification from B. Braun that products of the above-mentioned batches might have deviations in pH value, colouration and quality of emulsion, probably due to possible damage of the overwrapping of the product bags. As a precautionary measure, B. Braun has recalled the affected batches of the product. 
     The above product, mainly containing fatty acids, amino acids, electrolytes and glucose, is a parenteral nutrition preparation for nutrient supplement when oral or enteral nutrition is not feasible. According to B. Braun, the affected batches have been supplied to the Hospital Authority and private hospitals.
     B. Braun has set up a hotline (2277 6100) to answer related enquiries.
     So far, the DH has not received any adverse reaction report in connection with the product. The DH will closely monitor the recall.
     Patients who require use of the above product should seek advice from their healthcare professionals for appropriate arrangements. There are alternative medicines available on the market with similar indications.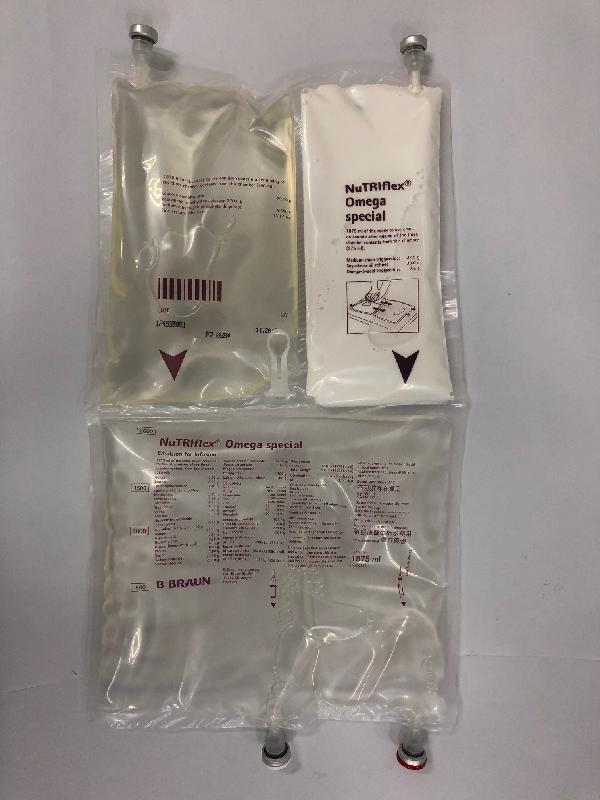 Reposted from HKSAR Government webpage:
https://www.info.gov.hk/gia/general/201910/31/P2019103100678.htm